---
---
---
---
---
Previous Conferences
ASCE Earth and Space Conference
Organized by Missouri University
of Science and Technology

Phone: (573) 341-4200
Fax: (573) 341-4992
Email: earthspaceconf@mst.edu
Dr. Wieslaw Binienda (University of Akron)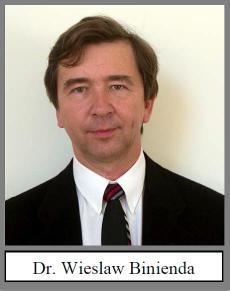 Dr. Wieslaw K. Binienda, F. ASCE, currently serves as Professor and Chairman of the Department of Civil Engineering at the University of Akron. He received his Master of Science degree from the Warsaw Polytechnic and Ph.D. in Mechanical Engineering from Drexel University in Philadelphia, Pennsylvania.
His research interests include high energy impact simulation, fracture and damage of materials with emphasis on advanced composites, explicit and implicit finite element analysis, smart materials, structural design as well as optimization, characterization and constitutive equation development for ceramics, metals and polymer matrix composites.
He has authored or co-authored 64 journal papers, 22 NASA Technical Memoranda, and over 100 other publications. He is a Principal Investigator or Co-PI of research projects in the amount of over $8.5M from federal agencies like NASA, NSF, state agencies such as EPIC, OAI, and the private industry.
In 2004 Dr. Binienda received a prestigious NASA Award titled "Turning Goals Into Reality" for valuable contribution to the Jet Engine Containment Concepts and Blade-Out Simulation Team and Exceptional Progress Toward Aviation Safety. In 2007 Dr. Binienda was honored with the ASCE Fellow in recognition for his outstanding research accomplishments. He is also a recipient of the Outstanding Researcher Award and the Louis A. Hill, Jr. Award of the University of Akron. Recently, he received two prestigious ASCE awards: Outstanding Professional Service Award in 2010 and Outstanding Professional Contribution Award in 2011. Polish-American Congress Illinois Division awarded him the Heritage Award in 2012. He was a distinguished keynote speaker at the ASCE Earth and Space Conference in March 2012 in Pasadena, CA. He also was invited as the keynote speaker at the Polish-French Symposium on Mechanics at the Polytechnic University in Warsaw in May 2012. Dr. Binienda was also invited by COMAC Corporation as an aviation expert for the ISATCA Conference in Beijing China, in September 2012, where he presented his analysis of the Tu-154M airplane crash in Smolensk. Dr. Binienda also serves as co-director of the Gas Turbine Testing Center at the University of Akron where he is responsible for impact, material and structural experiments. He presented his methodology at ISASI conference April 2-3 2016 at Reston VA, USA.
In 2010 Dr. Binienda was elected as the Editor-in-Chief of the Journal of Aerospace Engineering and in 2013 he received Richard R. Torrens Award in recognition of excellent leadership and for the enhancement of the Journal. He is also on editorial board of the Frontiers in Aerospace Engineering Journal.